Saferide America and the Jordan Wachtell Foundation are working together to proactively prevent impaired driving and the needless loss of life impaired driving can cause. We are asking you to take a moment to listen to a true and tragic story that should have never happened and consider supporting our cause.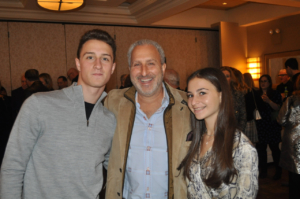 It was just before 8:30 p.m. Thursday, January 30, 2020. Jordan Wachtell, a dedicated father, was driving his son and two of his son's friends to play in a local league basketball game. Jordan was a dedicated father, husband and businessman. All of the teens were seniors at Ardsley High School in New York about to graduate and begin the rest of their lives. They were in Jordan's 2018 BMW 330CI and jumped on Interstate 287 East in Harrison NY.
Unfortunately, Jaime Paucar, 50, of Amawalk in northern Westchester also ended up on Interstate 287 East in Harrison NY too. Allegedly, before this day started, Mr. Paucar had been arrested so many times for illegally driving impaired that he was required to keep an ignition interlock system on his personal car at all times to insure he did not drive after drinking. The ignition interlock requires a clean breath sample before anyone can start the car and drive.
Around 9:30 p.m., on this same day, Mr Paucar will tell a state trooper he had one or two mojitos before driving. This is why Mr. Paucar was driving the 2006 Jeep and not his own car. Later, two hours after the crash, a blood sample taken from Mr. Paucar would register a BAC of 0.19 more than double the legal limit.
Mr. Paucar circumvented the ignition interlock on his car, on this day, by driving another person's Jeep. Paucar left White Plains that evening heading east on the correct side of I-287.  
After passing Exit 10 in Purchase, he hit a car, kept going and got off at Exit 11 in Rye. He turned north on Boston Post Road toward Port Chester but then backtracked. He crossed over I-287 and turned off Boston Post Road toward Purchase Street, which he took into Harrison.
At Westchester Avenue, cars can only turn right because traffic is one way. Instead, Paucar went straight into oncoming traffic and then up the Exit 10 exit ramp heading west on the eastbound side of I-287 for more than two miles.
A witness to what was about to happen said "He (Paucar) seemed to be going pretty fast, between 60-70 miles per hour". The witness was riding in a car with her fiance, who had to swerve as they saw the Jeep driven by Mr. Paucar, in the far left emergency lane headed in their direction. The Jeep was going the wrong way on Interstate.
During that stretch, Paucar allegedly hit two more cars and caused a third accident when drivers swerved out of the way before blasting the BMW head on, killing the driver, 57-year-old Jordan Wachtell, and 17-year-old passenger Eric Goldberg. The two other 17-year-olds, including Wachtell's son, were seriously injured.
After colliding with the BMW, Paucar's Jeep rolled over and came to rest in the center median. The Jeep left the BMW mangled and unrecognizable.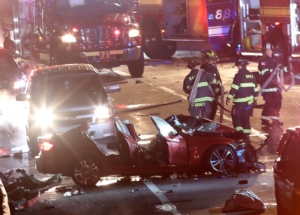 According to court documents relating to statements Paucar allegedly made that night, he told an EMT at 8:45 pm at the accident scene that he hadn't been drinking and he didn't know what led to the crash. He claimed he was 22 years old.
Ninety minutes later, he allegedly told a state trooper at the Medical Center that he had one or two mojitos, but nothing after 3 p.m. He told the trooper that he was heading home from White Plains. He consented to give a blood sample saying, "Yes I will take the test because I know I'm not DWI."
According to prosecutors, Paucar's blood alcohol content two hours after the crash was 0.19 percent, more than two times the legal limit and just over the threshold for aggravated DWI.
In addition to the murder counts, the indictment charges Paucar with aggravated vehicular homicide, second-degree manslaughter, second-degree assault, all felonies, as well as misdemeanor charges of third-degree assault, aggravated DWI, DWI, reckless driving, leaving the scene of property damage without reporting and leaving the scene of a personal injury without reporting.
The murder charge accuses Paucar of driving so recklessly that he showed a depraved indifference to human life. While most DWI-related fatal crashes result in a range of vehicular homicide and manslaughter charges, the I-287 crash presented grand jurors with several instances when Paucar could have stopped, increasing the level of recklessness.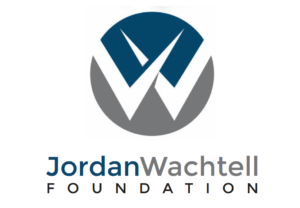 The Jordan Wachtell Foundation and SafeRide America are asking you to help support our cause today. Donate now to help us expand SafeRide designated driver service locally and nationwide. This time tested, proven life saver, could have easily prevented this senseless tragedy. 
Click here to learn more about Jordan Wachtell, the Jordan Wachtell Foundation and how you can make a difference to help us proactively prevent all types of impaired driving.